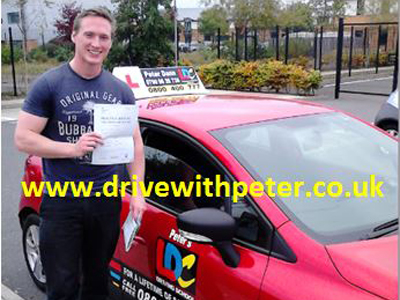 Will
Passed first time with Peter, in one week!
Due to a very tight schedule at work I only had a week to learn how to drive. Having had virtually no experience behind the wheel I was certainly concerned that this would be too much to complete in that time. Before I started my week, I was able to meet with Peter Dann who was to be my instructor. He talked me through what I could expect during the course and how the lessons would be structured. This was a really helpful first step, as I did not feel so daunted on my first day. I was also given my LDC Driving Skills Workbook and LDC Driving Skills DVD which were both very informative and user friendly – I highly recommend spending the time to study these as they really help. Peter is a fantastic teacher and I could not recommend him highly enough. He was always so calm when I was driving, which I can assure you was no mean feat, especially during the first few days. It is an intense week with some of the days comprising 6 hours' worth of driving, but Peter was very good at keeping me motivated. Driving can feel quite intimidating, particularly when you are first beginning to learn to drive, but Peter was excellent at giving me the confidence I needed, whether it was merging onto my first dual carriageway or reverse bay parking next to a fancy sports car! Going in to my practical driving test at the end of the week I was quietly confident as Peter and I had put in a lot of hard work during the week, and we had even had the chance to do a mock test, so I really knew what to expect. If you do the intensive One Week Pass Course it is hard work but with Peter as your teacher I can assure you that you have a great chance of passing. Thank you very much Peter I really appreciate all the help you gave me over that week.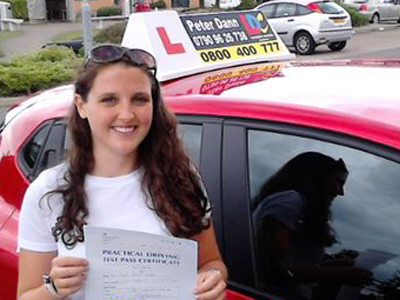 Tayla
After previous test fails with other instructors, finally, success after a Test Booster Course with Peter!
Tayla had had lessons previously with two other instructors, and taken two tests without success, before getting in touch with Peter and taking a Test Booster Course with him: "I have already recommended Peter as an instructor to others and he will be starting lessons with my next-door neighbour in a few weeks time! Compared to two previous instructors, I thought Peter was much calmer and friendlier, and I found the lessons to be more self-directed. This was helpful as I was able to go over things I didn't feel comfortable with, whilst Peter could recommend lesson structures to accommodate this and anything he felt I should work on. The LDC Driving Skills workbook and DVD were beneficial as they allowed me to refresh my knowledge of my previous driving experience, before starting my hours with Peter, and go over anything that had been highlighted in a lesson as something to work on. I found the overall experience of learning to drive a very rewarding one as I feel it is a highly valuable and enabling skill, in many aspects. Now that I can drive I'm very excited to get my own car. I want to travel around and go on day-trips with my friends! Thanks, Peter, for being a great instructor and helping me finally pass!" Tayla then went on to take Pass Plus training with Peter too: "I would highly recommend the Pass Plus course as it made me feel more comfortable driving alone as I was able to experience situations which would have seemed daunting and intimidating if I was without guidance. Not only did Peter cover the required topics with me, we also used a petrol station, followed a sat nav and spent time learning how to deal with a multi-storey car park. I found the motorway and night driving lessons particularly valuable and I feel I will handle these situations in a much safer and more confident manner in future. Thank you Peter!"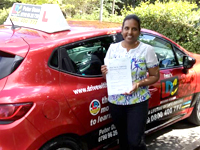 Perina
Perina happy to have passed her test after lessons with Peter
I highly recommend Peter to anyone who is a looking forward to a very fruitful outcome from their driving lessons and looking to pass with independent and confident driving skills. I am a big fan of him and will rave about him should anyone ask me to recommend a driving instructor. Peter is absolutely brilliant, focused, selfless, extremely helpful and flexible and tailors driving lessons to suit the individual. I've had a fantastic experience driving with Peter - every session I learned to be more confident and independent on the road. No matter what silly mistakes I made and criticized myself on many occasions,
Peter always focused on the positives. After each driving session he took time to give me constructive feedback and to enable me to note down my learnings from each session in my handbook to which I could refer later. He never rushed any session and brilliantly fielded all the questions and queries I had during my lessons. I had difficulty getting the reverse parking manoeuvre right and often got frustrated about it. Peter then spent 2 hours of a session completely focusing on a method that suited and worked best for me. I was exhausted after the session, but he never once even yawned. Thanks to his efforts I am a pro at it now. This experience in my mind showed sincere dedication and commitment towards his pupil to achieve the best.
I failed my first test more because it was a silly error of not looking before I pulled out at a closed junction, resulting in a serious fault. Peter motivated me a lot and again highlighted all the positive and good things that I did during the test rather than only giving me feedback about my faults. The LDC learning materials were very helpful and before my test I made sure to go through my notes and all the videos to prepare myself for the before every session and also before my tests. I took some more lessons and passed my driving test 2nd time with only 2 minor faults. Thank you Peter.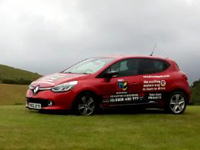 Steph
After several attempts to learn to drive some years previously, Steph finally passed her test first time after an intensive course with Peter, and now loves driving!
I honestly think 80% of my first time test pass is solely down to Peter. After a week of intensive lessons after not driving for 7 years, I not only feel I am a competent driver, but am more than confident driving around central London. I found the whole course totally enjoyable and stress-free due to Peter's patience and amazing teaching ability - not stressful and high-pressured like I've had with past instructors. Can't recommend enough!!!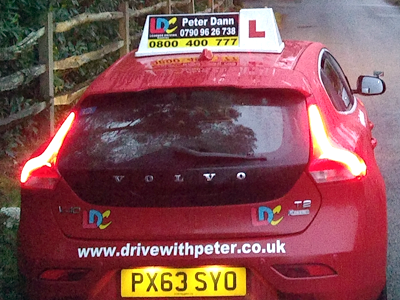 Emanuela
Let down by another instructor part way through her learning, Emanuela turned to Peter, and went on to pass her test first time!
Peter, I just wanted to thank you for your time and patience. You are a wonderful teacher, really made me more confident in my driving and I appreciate it so much. How the training/coaching helped me? - It helped me improve and polish my driving skills, and to be aware of all the key essentials I need for when I drive. What I thought of the trainer/coach? - The trainer/ coach was very helpful, friendly and made sure that the environment was safe, where you feel you can ask any questions without being disregarded, and assisted to the best you can be. My favourite parts of the training were learning new manoeuvres, everything was explained in such a way that it was fun, helpful and successful. The LDC Driving Skills workbook and videos were very helpful; writing down what was learnt after every lesson was a good way to practice and ingrain what I did in each lesson, especially to look back upon. The overall experience was 10/10, worth my time and the investment for it. I'm very likely to recommend Peter to others. What am I most looking forward to/how my life will change now I can drive? I'm looking forward to being more independent.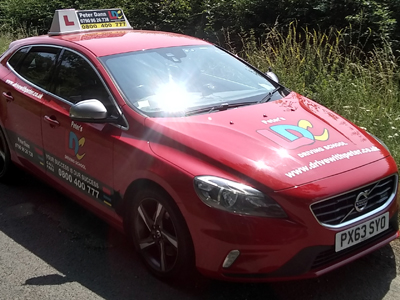 Alison
Alison had some years ago learned to drive an automatic car in the US, but wanted to get to grips with UK roads and rules, roundabouts (comparatively rare in the US), and driving a Manual car. After lessons with Peter, she passed her UK test!
Learning to drive has been a roller coaster but your instruction, flexibility and commitment to my learning made it much easier! I would highly recommend you to others. You have helped me to be aware of the things on the road that I may have previously overlooked or not been fully aware of. Being from a different country, you were very helpful in guiding me to understand driving etiquette and behaviours that I should get used to in the UK. I felt your instruction was very personalised. As you got to know me as both a driver and a person, you tailored your guidance to areas where I struggled and in ways that were suitable to me as a learner. You gave me techniques to build confidence and understanding, like counting out roundabout exits, and explained things thoroughly when I was unsure as to why something might be a certain way. I also really appreciated your patience as well as your pragmatic approach. When I might have gotten down on myself, you were quick to steer me back to positive and forward thinking. Favourite parts of the training? Learning a new skill (manual). The LDC Driving Skills videos helped me to visualise and internalise driving scenarios in the periods when I couldn't be on the road practicing. Passing my test will be truly life changing as it will enable me to participate in many more activities with my newborn. Coming from London, I always relied on public transportation or getting places on foot, so this will truly give me access to a whole new world of experiences. Thank you again for your dedication to my success as a driver!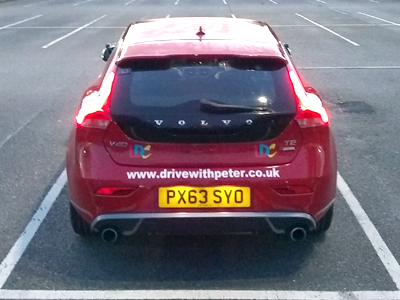 Max
Looking to fit learning to drive into one week, Max booked an intensive course with Peter and went on to pass his test first time!
I passed! I thought you were a great coach, I felt listened to and you had a good intuition on when to progress on to new skills. The LDC Driving Skills material was essential to me, especially the online LDC theory test materials, without which I don't think I would have done nearly as well on my theory test, getting 50/50. The overall experience was 100% worth the money for an intensive course, very professional and comfortable to get into the routines. I am looking forward to the freedom and practicality of driving, I would be very likely to recommend you. Thanks again for all your help.
Matthew
Matthew was happy with the outcome of his driving test after lessons with Peter – a first time pass!
Peter was the perfect instructor for me, passed 1st time with little to no stress, definitely would recommend him.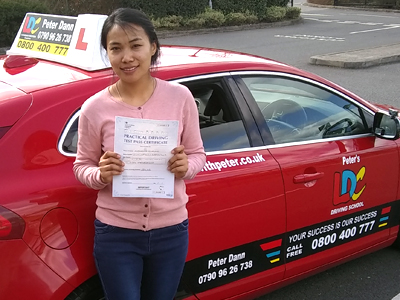 Manisha
Manisha needed to get driving for her work – thanks to lessons with Peter she's now passed her test!
I was a complete beginner so the driving skills I acquired over the past months with Peter helped me to be confident and relaxed on my test day. Peter, you were very calm, polite and patient during all the mistakes I made during my lessons. You were very interactive and always allowed me to carry out the actions and gave me excellent feedback before, during and after my lessons. All the LDC Driving Skills materials were very clear and easily understandable. I regularly used the videos to gain an insight on my upcoming lessons. I thoroughly enjoyed my time learning with Peter. I managed to grasp all the lessons in very friendly environment. I was lucky to have a knowledgeable and experienced instructor who guided me throughout my time learning to drive. Even after my initial failed test attempts I was always encouraged to do better, which increased my self-belief, which all helped me to now pass my test with only 4 minors. I was always scared of roundabouts and hesitant to tackle crossroads and T junctions. Thanks to a lot of focus on this during my training with Peter they have now become my favourite. I would highly recommend Peter to anyone learning from scratch or looking to further develop their driving skills. I will now be able to drive to work – that's the thing I'm most looking forward to. I'll be self-sufficient and I will no longer have to rely on my husband to get around. Thank you very much, Peter for all your help. I would not have passed without your guidance.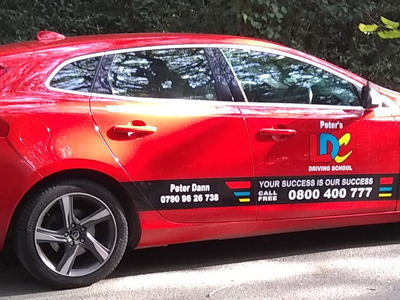 Sion
Lessons with Peter helped Sion pass his test first time!
Thank you for teaching me to drive, Peter. I felt the training was very professional, achieving the goals set at the beginning of the lessons. I found the whole process went very smoothly from start to finish. I will highly recommend you to people I know that want to start driving. Having now passed my test it will open up a lot of opportunities with my work.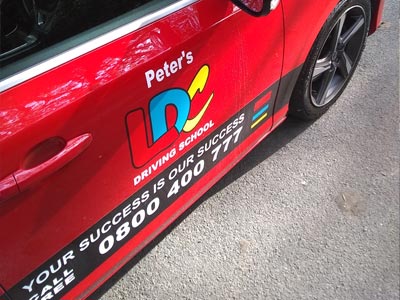 Natasha
Natasha had been learning to drive with another instructor but wasn't feeling fully confident with them, and with her driving test approaching, she got in touch with Peter to arrange a mock test, to help weed out issues with her driving and fill in some gaps in her learning.
Peter, thank you for the mock test – I found it very helpful. I really liked your teaching style and I felt relaxed in the car.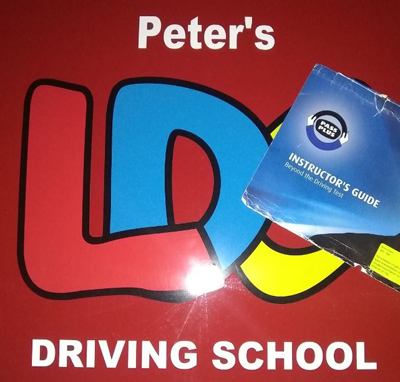 Jessica
Although Jessica had passed her test a year previously after learning with another instructor, she didn't feel at all ready to make the leap to actually getting out on the road and starting to drive solo. She contacted Peter for some additional lessons in the form of PassPlus to build her confidence, and it really helped...
I wasn't a confident driver (although I had passed my test) and it was a bit of a mental block for me. I really needed someone to guide me through some extra sessions to build my experience and confidence. The sessions were great value, and flexible timing-wise. I was encouraged by Peter to take things at my own pace. Peter is so calm, assured and experienced. He immediately put me at ease and made me feel that I could handle driving. I found the experience really positive, I feel 100% better about driving and my abilities overall now. How likely would I be to recommend Peter to others? Very. Now I'm looking forward to enjoying the freedom and flexibility that being able to share the driving with my partner will give us both, and it makes me excited to get my own car in the near future. Peter, thank you so much!! It really has been invaluable to have extra driving lessons with you and complete PassPlus.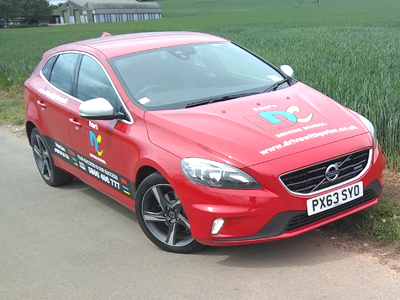 Lucy
Thanks to lessons with Peter, Lucy passed her test first time!
Peter's patience whilst teaching a completely new driver was very calming. I was really nervous about getting in the driver's seat of a car, but I was made to feel at ease after my first lesson! The way Peter taught me how to change gear and come off the clutch carefully helped me to understand how the engine worked and what was needed for a smooth gear change. I found the LDC Driving Skills Workbook really useful as I could continue to learn about driving at home even when I wasn't in the car during an actual lesson. Peter directed me to useful videos, for example to help visualise reversing manoeuvres, for fuller understanding. Having the freedom to drive will open so many doors for me now. And now I can pop to the beach whenever I want to just get away! I would 100% recommend Peter to any first time driver, he was very conscious and considerate of my nerves about driving, but pushed me through to passing my test, which I would never have believed possible! Thank you so very much Peter for teaching me to drive!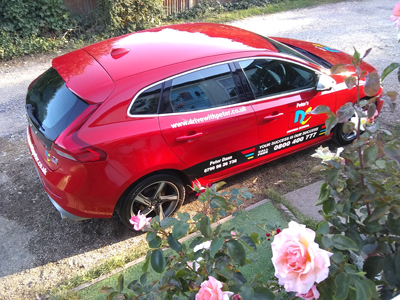 Paul and Clara
Adrienne was really happy to see twins Paul and Clara pass their respective driving tests after lessons with Peter…
Paul and Clara had the occasional lesson a year ago in central London, but anything learned was soon forgotten. Hence we decided to book them onto a semi-intensive course with a local instructor here in Farnham. Peter was very accommodating and managed to find time in his already busy schedule to fit both Paul and Clara in. Although four hours of driving a day (albeit split up with breaks) is tiring, Paul and Clara thoroughly enjoyed the whole experience and are now the proud owners of their full driving licences. In their own words: 'Peter was extremely professional, calm and comforting – he put us at ease.' We would highly recommend Peter to anyone looking for excellent driver training. Thank you so much Peter for everything you've done for them. They really loved working with you.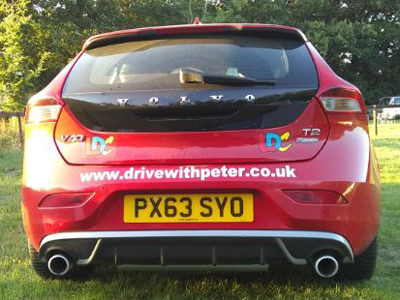 Savita
Savita was delighted to pass her driving test following lessons with Peter…
I passed my driving test today, I am so happy. Big thanks to Peter – great driving instructor, very patient, polite and friendly. Very happy to recommend him!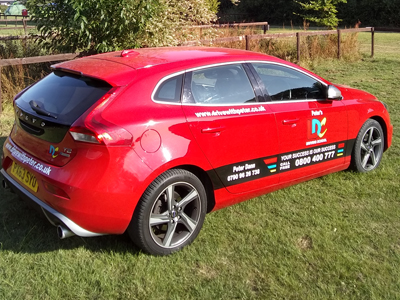 Ana
Ana was so pleased to finally be able to finally drive solo after passing her test following lessons with Peter…
Peter, thank you so much for everything. You are a great instructor, I would highly recommend you to anyone. Today I find myself driving solo for the first time. Thank you so much for teaching me to come this far.
Bobbie
Bobbie wanted to learn to drive but was nervous about the prospect of actually taking the step of getting behind the wheel. She booked an initial first lesson with Peter, and was pleasantly surprised, going on to master all the basics of driving during her subsequent lessons! Although she's had to put her learning on hold temporarily to prioritise family commitments,she's achieved a lot already during her lessons with Peter.
Peter, thank you for your time, patience and understanding over the last few months. You're amazing at your role.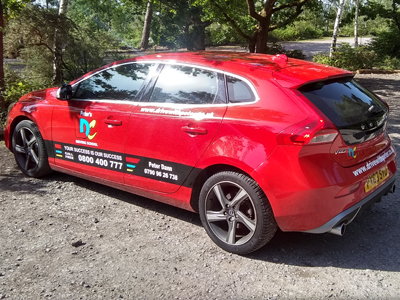 Spencer
Spencer was already taking some lessons with another instructor, but didn't feel they were getting him where he needed to be with his driving to pass his test, and contacted Peter for additional lessons, which helped him make the progress he needed and develop his driving skills to the point where he was able to pass his test first time!
Peter, I passed – thank you for all the help! You have been a major help regarding my driving and I feel I have improved a lot in our sessions.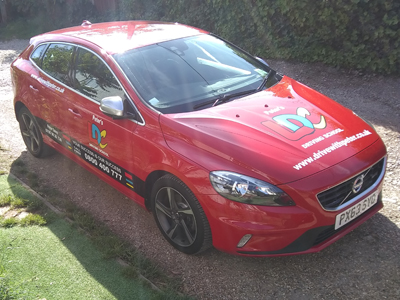 Alex
After deciding to learn to drive, Alex wasn't sure what to expect from his first driving lesson but was pleasantly surprised with his first lesson with Peter. Whilst Alex has now had to put his learning on hold in order to focus on his PhD thesis and a new job, he was pleased to have reached a good level with his driving with Peter that he intends to build on once he has moved wherever his new job takes him…

Peter, I'd like to thank you so much for your excellent teaching and patience in my lessons so far. I feel able to pick it up elsewhere with all the skills intact and would recommend you to anyone in a heartbeat.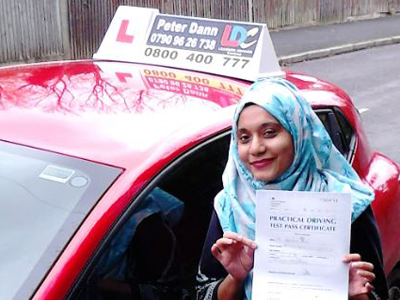 Moon
Nervous about driving, but Moon overcame her fears and passed first time with Peter!
I would strongly recommend anyone who wants to pass their driving test first time to go with LDC and take lessons with Peter Dann. I was always nervous when thinking about driving a car, but gradually, after starting to take driving lessons with Peter I got my confidence level up. Peter is extremely calm, friendly and has lots of patience. It wasn't straightforward to fit my lessons around my work and looking after my young son, but Peter managed to work out a lesson schedule that suited me very well. The LDC Driving Skills Workbook and DVD I was given as part of my Semi-Intensive Course were really helpful. It was very easy to really read the book and look at the videos to familiarise myself with each topic before covering it in the lessons with Peter. Thank you Peter for all your guidance!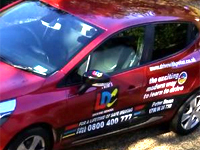 Grace
Grace got in touch with Peter for driving lessons following negative experiences with her driving tuition from other instructors. She found lessons with Peter to be just what she was looking for, and went on to pass her test first time!
Peter, I chose you specifically because there were reviews on your website saying you were good with nervous drivers. I was very nervous to try and learn to drive after a previous bad experience. You were impenetrably calm which really helped me. So I thought you were excellent! I really appreciated that you were constantly interested in what I felt confident with/needed more practice with. Learning to drive is never going to be 100% stress-free due to the inherent risks but I felt that you made it as stress-free as it could be. I feel I am well placed to drive on my own & am delighted that your teaching allowed me to pass first time.
I found it useful to have multiple ways in which to take on the information. Particularly in the beginning when I was trying to learn techniques and concepts I found it useful to read the LDC Driving Skills Workbook & then subsequently watch the corresponding LDC Driving Skills videos. I have been driving to and from work for 3 weeks now, and although a little daunting at first, I'm slowly getting used to it. On average it saves me two hours a day of commuting.
One day last week (due to reduced traffic resulting from school holidays) I made it to work in 36 minutes, compared to my previous commute of 2 hrs!! To say it is life changing would not be an exaggeration! I would definitely recommend Peter to others!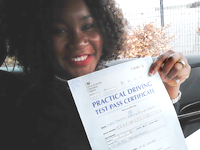 Sarah
Only having previously driven Automatic in Africa, thanks to Peter's coaching Sarah mastered driving Manual and passed her UK driving test…
Just passed my driving test after coaching by a wonderful instructor, who was very patient and understanding - Peter is a really selfless instructor who goes all out to ensure you get it right, no matter what it takes, finding different ways to reinforce the learning of a given topic to ensure that what you are trying to learn sticks, and above all, to ensure you will be safe on the road. Peter encouraged me to use the LDC Driving Skills Workbook, which helped me a lot, as it enabled me to familiarise myself beforehand with any topics we were to cover in a particular driving lesson. I couldn't have wished for a better instructor. I would rate him 11/10 and would highly recommend him to anyone wishing to learn to drive. Try him and you'll see! Thanks Peter.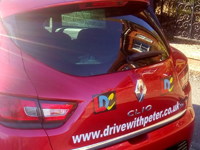 Elodie
Proud mum Kim was over the moon to see daughter Elodie pass her driving test after lessons with Peter…
Peter, I am really pleased to say that Elodie passed her test today with 0 faults!! I'm very proud of her and she's already insured and out in her car. This will change her life now. I would like to say a huge thank you to you for getting Elodie through her test and giving her the confidence to even want to drive. I cannot thank you enough.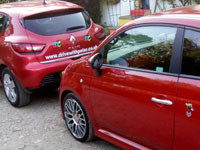 Alice
After repeatedly failing to pass her test in the past following a year of lessons with one instructor, then more lessons with another instructor, after a break abroad Alice decided to book a Test Booster course with Peter – and passed!
The training was massively helpful to me. I had had a few negative experiences with driving before, but I felt much more comfortable and confident this time round. Peter, you were always very calm which put me at ease. The instructions/tips you gave - especially with manoeuvres - were always very clear and easy to understand. The mock tests and the feedback I got with them were so useful (no other instructor had done any with me) as the process got me used to the format of the test and showed me what specific areas I needed to work on. The LDC Driving Skills Workbook was very useful for refreshing my memory of the theory of driving, e.g. road signs, etc. and also gave lots of good tips about what the examiners would count as a fault on the test. The videos also helped keep me focussed on driving in between lessons. The overall experience was really enjoyable and I would definitely recommend you to a friend. I am most looking forward to having more freedom now I can drive and not relying on everyone else for lifts! Thank you for everything Peter!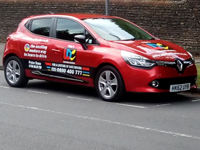 Liah
After taking lessons with another instructor that she didn't feel were meeting her needs, Liah took lessons with Peter and went on to pass her test first time!
I chose to go with Peter after losing all lack of confidence with a previous instructor. Peter was very calm, talkative and patient with me and my confidence came back. I was finally enjoying learning to drive, which has resulted in me recommending a couple of people to him! The 2 hour sessions ensured we made the most of the time and there was no rushing around which meant you have enough time to practice and make the most of every session! He supplies you with the "show me/tell me questions" so you can remember them and he goes through them with you which previous instructors didn't do with me! Overall I'm so much more confident behind the wheel. Thanks to Peter I passed first time and I finally have the freedom to drive and this has opened more job opportunities up to me now! Thanks so much.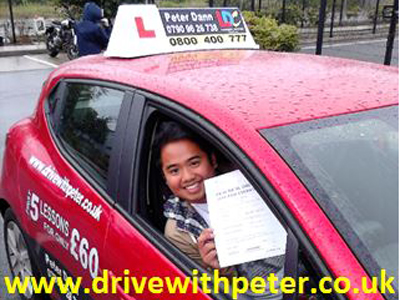 Justine
Justine was happy to have passed his test quickly thanks to his lessons with Peter...
I would strongly recommend that anyone looking for a driving instructor takes lessons with Peter as he is a good and patient instructor, helping me to pass my practical driving test in only just over 20 hours. The training that I received from Peter was very helpful, especially in conjunction with the LDC Driving Skills Workbook, which allowed me to learn and practice my driving skills even when not in a lesson with Peter. My overall experience with driving with Peter has been great and I learnt much quicker and easier with him. I look forward to finally being able to drive to places instead of taking a bus or a train. Thank you very much, Peter :).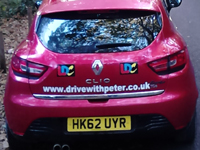 Beth
Beth overcame her initial nervousness about driving to pass her test with Peter
A massive thank you for helping me!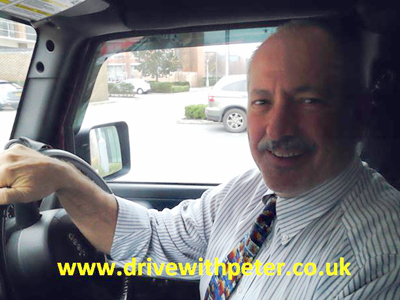 Harry
Faced with the requirement to take a UK driving test, US driver Harry passed it first time thanks to Peter's coaching...
I am an experienced driver - but with none of that experience in the United Kingdom. Coming from the United States, regardless of experience level, Peter's knowledge and tutoring abilities were an invaluable part of the successful outcome of my UK practical driving test - his teaching was tailored to my specific needs. Peter was able to correct (most of) the habits that did not fit with the skills necessary to pass the UK driving test and, more importantly, his coaching provided me with a healthy base for continued safe driving. Although Peter's constant smile and good humour was occasionally "put to the test", I'm sure, his focus on teaching safe driving never faltered. I passed my UK practical driving test first time - without Peter's coaching, I am sure there would have been a different outcome! Many thanks Peter, and to the staff that support his efforts.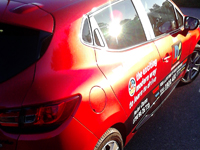 Curtis
Novice learner Curtis was the lucky recipient of a gift voucher from his parents for 5 hours of lessons with Peter...
I thought you were a great teacher, Peter, you went through everything comprehensively and helped me feel comfortable behind the wheel, I would definitely recommend you to others and I will be very likely to want to book some more lessons :)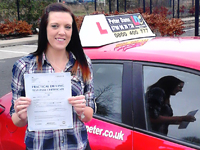 Emma
Emma had taken lessons at various times in the past with other instructors, but overcame her nerves to pass first time with Peter...
Thank you Peter – I'm over the moon :) to have passed! Thank you for all your help and guidance throughout the whole experience, still can't believe I've finally passed after all these years of giving up! Thanks again…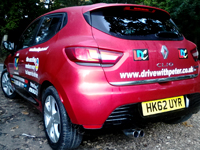 Katie
Katie passed her driving test after taking a semi-intensive driving course with Peter.
Peter, I passed!! Very, very pleased! Thank you for everything :)
Peter was always very calm, encouraging and friendly… unlike some of my friends driving instructors who were snappy and put them off the daunting prospect of learning to operate a vehicle. The LDC resources were excellent in aiding lessons during the early stages of learning and allowed for maximum time learning practically in the driver's seat. Would definitely recommend Peter as an instructor his patience and flexibility to progress as fast or as slow as you wanted really helped the process.
I couldn't be happier to have passed my driving test, the independence and freedom it allows really is one of the best things to happen to me in my life so far and so many opportunities and experiences now await! My younger siblings will be sure to get in touch when it is their turn to learn!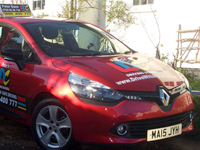 Arnie & Lily
Concerned to ensure son Arnie would be well-prepared for an upcoming trip-of-a-lifetime journeying through Nevada's mountain rounds around the Grand Canyon renting a Mustang muscle car and RV, Lily contacted Peter for a tailored instructional and driving session, taking in challenging narrow and twisting rural and hill roads and hairpin bends, to equip him with the necessary know-how and experience to safely enjoy his driving in the US...
Peter is a wonderful instructor. He is very professional and polite. He is very organised and responsible. He has great driving knowledge and experience and he shares this with his learners in a very nice, clear manner. I would rate Peter's service as high as it could possibly be rated. For those looking for the best teaching and the best driving instructor I would strongly recommend Peter. Great service.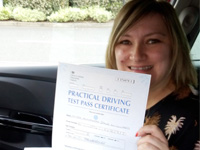 Amanda
After a colleague already learning to drive with Peter recommended him to Amanda, she found that his calm teaching approach combined with the LDC Driving Skills materials enabled her to achieve much more progress with her driving than she had with previous instructors and helped her finally pass her test and get driving solo...
Peter is a great driving instructor and I would highly recommend him to anyone wanting to learn to drive. I had 2 instructors prior to Peter but wasn't really making any progress until I started learning with Peter. The LDC method of learning really worked for me and every lesson was structured to make good progress. I was a very nervous driver but Peter is a very calm and patient instructor always made me feel calm throughout my lessons. I can't thank Peter enough for the excellent training.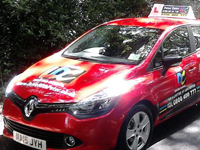 Laura
A Test Booster course with Peter helped Laura gain the confidence to finally take her test - and pass first time!
Having taken lessons to learn to drive before, about 6 years ago (I didn't have the confidence to take the test last time), Peter helped me get my confidence up and gave me the mechanisms to master driving in any car. Thanks to Peter's coaching and the LDC Driving Skills Workbook, I feel confident on the road and now even enjoy driving on motorways! I'm so appreciative of the way Peter taught and cannot thank him enough for his patience and reassurance. It was a great experience and I'm loving being able to drive myself around.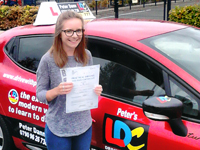 Katie
Katie attained her goal of learning to drive thanks to lessons with Peter...
Peter, I liked having you as my instructor because your coaching really helped me. I found it beneficial when you demonstrated things for me. I found that our two hour sessions were really good as we could get a lot of learning done in that time. The LDC Driving Skills Workbook was really good as it explained everything you needed to know about driving. It also helped with my theory test. I would highly recommend you to friends of mine as a driving instructor. Thank you Peter.
Sian
Never having really looked forward to learning to drive but needing to gain her driver's licence, Sian worked hard to fight her fears about driving and finally achieved her goal after lessons with Peter...
I never thought I'd be in a position where I could say I have passed my driving test! Having been let down by another driving instructor in the past, I found Peter extremely helpful and easy to learn with. Lessons were structured to suit my individual learning style and I was given the opportunity to focus on certain things that I felt needed the most attention. The LDC Driving Skills Workbook and DVD Peter provided were of great help, especially in the early stages of learning and also in the lead up to the test. He also recommended videos which he felt could be beneficial and they were! I'd highly recommend Peter as an instructor to anyone, whether they are extremely nervous behind the wheel or really confident. Peter's approach to coaching made me feel calm, relaxed and happy to learn. I'm looking forward to what comes next, who knows where life will take me now, but wherever it is I'll be going by car, and this time I'm in the driver's seat. Thanks for all your help Peter - I really couldn't and wouldn't have achieved this without your support.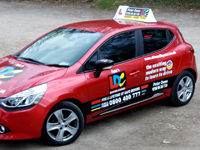 Lucy
Wanting assurance about the driving capabilities of her new au pair from Spain, Lucy turned to Peter for an assessment drive, a session dedicated to familiarisation with driving on the left on UK roads, and a session in the car au pair Loreta would be using daily to carry out her work.
Thank you Peter. Your service was fantastic. Will contact you for our next au pair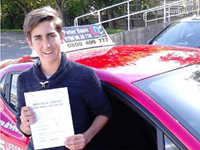 Tyler
Passed 1st time
Tyler passes first time after Semi-Intensive course with Peter.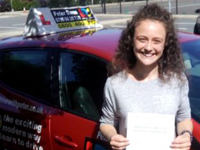 Polly
Having passed her test after lessons with Peter, Polly also went on to boost her skills in preparation for taking to the roads in her own car by taking a PassPlus course with Peter…
Peter, thanks for your time, patience and for being such a brilliant instructor. I've been happily driving around today in my new car 😊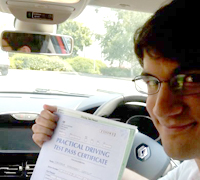 Chris
Chris worked hard to beat his initial nerves and pass his test with confidence...
I would definitely recommend Peter to anyone wanting to learn to drive. His style is calm, confident and supportive, and I felt able to learn at my own pace and direct the focus of the lessons towards my particular weaknesses. At the same time, the LDC Driving Skills workbook and videos imposed a clear structure on my lessons, giving me a great sense of progress, and I think that using them to prepare/revise really helped me to understand everything I had to learn. A series of mock tests with detailed feedback, and the information provided in the LDC resources, helped prepare me for the test and ease a lot of my anxieties. Now that I've passed I look forward to getting my own car (and not having to rely on trains to get around!) and traveling to all the places I couldn't before. Thank you Peter for showing me how.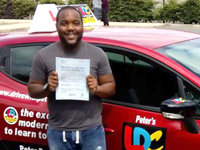 Ojay
Ojay couldn't wait to get driving, and passed his test thanks to coaching from Peter...
Learning to drive has been a long and tiring journey, but Peter has been an amazing teacher all the way through it. He has been encouraging, patient and kind. I'm very grateful to have had Peter as my teacher. I would recommend him to anybody.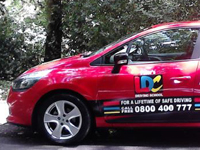 Faith
Having found learning with other instructors stressful, and feeling that she wasn't making progress, Faith took lessons with Peter, and found the experience much more positive...
Thank you so much for the lessons you have given me, you are such a good and patient instructor.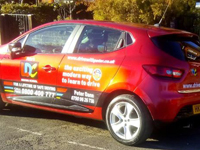 Analucia
Analucia only had experience of driving Automatic cars in Peru, but with tuition from Peter she mastered driving Manual and passed her UK driving test…
Learning to drive with Peter was fantastic. He helped me achieve the level of confidence I needed to pass my test and feel safe while driving. Peter was very patient, and he explained everything perfectly. He very kindly went through every manoeuvre and made sure I practiced until I felt confident enough. I greatly enjoyed every lesson. Peter provided me with materials to ensure I understood what to do and how to do it. Peter also supplied me with an LDC Driving Skills Workbook to help my driving, which was extremely useful, together with the corresponding LDC Driving Skills videos. I would happily recommend learning to drive with Peter! Thank you again for all your help Peter!
Gabriella
After another instructor let Gabriella down, lessons at short notice with Peter enabled her to pass first time!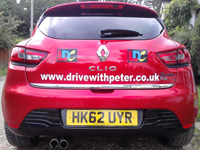 Philip
Nervous about getting behind the wheel of a car, Philip finally decided to set his fears aside and start by doing a session with Peter - and found he actually enjoyed it...!
I thoroughly enjoyed the lesson, and despite being nervous you put me at ease and I finished a lot more confident - so thank you.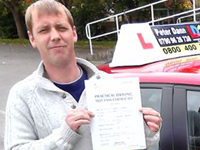 Scott
Passed 1st time
Coaching from Peter to complement long-term learner Scott's previous lessons with family and friends readied him to take and pass his test first time.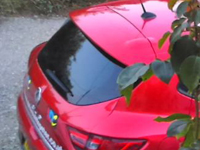 Holly
Holly battled nerves to pass her driving test with lessons from Peter
Thanks for all your help :)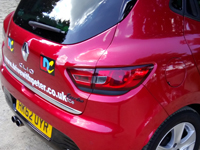 Konu
Konu started to learn to drive some years previously with other instructors but didn't enjoy the experience, however, thanks to lessons with Peter she has now passed her test...
I took driving lessons years ago but didn't see it through because I was nervous of being on the road as well as always feeling that the lessons were rushed. Peter, however, is an excellent instructor. I can't say it enough. He is very patient, calm and selfless. He put me at ease straight away. The LDC Driving Skills Materials is an added bonus. Planning my lessons ahead made me better understand the lessons before and after a lesson so the actual lesson is focused on my driving. As I was nervous about my 2nd driving test, we prepared for this by having mock tests which helped alleviate most of my nerves to go on and pass my test. The overall experience has been rewarding. And I'm looking forward to my new-found independence! I've already recommended Peter to a few of my work colleagues and will continue to do so to anyone needing a great instructor. Thank you, Peter.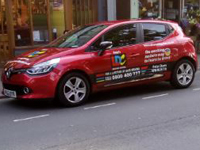 Elisha
Lessons with Peter helped Elisha get the test pass she craved...
I was so blessed to have Peter Dann as my driving instructor, I often wondered where he got so much patience from tbh. I passed my test on my 3rd attempt and give so much thanks to Pete for his continued encouragement when I felt like giving up. I highly recommend him to others that want to experience the freedom of driving. He really is the best!
Peter, thank you so much for being such a good teacher. I've been enjoying driving so much and have driven up to see my family in Kent and back already.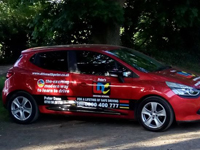 Nico
After taking two tests without success following lessons with another instructor, thanks to lessons with Peter Nico refined his skills and built up his confidence to finally pass his test…
Thanks so much for all your help Peter. Your coaching helped me to stay calm and gain confidence. As a trainer you were calm and very good at teaching me the manoeuvres and made my general driving a lot smoother. Now that I've passed my test I'm most looking forward to the freedom of driving and not having to rely on others.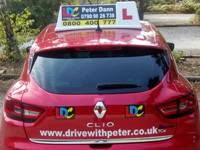 Alex
Although having a driving licence in his home country and having driven there for eight years, Alex needed to take a UK driving test to be able to continue driving here, and decided to take some lessons with Peter to help refine his driving skills to pass
Peter very easily adapted to my needs and in a very calm and understanding manner helped me to gain the necessary skills and knowledge for the test. I found every lesson very helpful and would definitely recommend him to both learners and experienced drivers.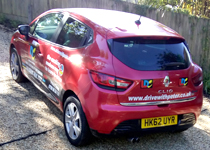 Rafael
Needing to take his UK driving test, Rafael wanted to make sure he was fully prepared for the test, and that his driving was in line with the requirements of the test here. During a tailored schedule of sessions with Peter, with just a little tweaking to his existing driving skills gained in Brazil, Rafael achieved his UK test pass with zero faults!
Peter has a natural vocation as a driving coach. Patience, knowledge and flexibility are some of his attributes. Peter makes learners feel comfortable and confident while preparing for the driving test. The lessons with Peter cover comprehensively all the practical testing requirements with a particular focus on optimising your safe driving skills. The LDC Driving Skills Workbook and accompanying videos are a great complement to the learning process and help you get the most out of your driving lessons. Thanks to Peter I have passed the driving test without any faults and more importantly as a result I have significantly developed my safe driving skills. I would definitely recommend Peter as your next driving instructor. Thank you Peter for all your help!